Parents
Henry Hinde Infant School prepares pupils for a 'world of possibilities'
14 May 2023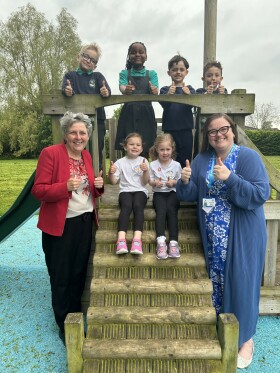 Leaders and staff at Henry Hinde Infant School, in Bilton, have been praised for being "determined to improve the life chances of pupils" and ensuring that children are "ready for a 'world of possibilities'", during a recent school inspection. 
 
In March, the school was visited by the schools' inspectorate, Ofsted. This was a one-day inspection to assess whether the school continues to be rated 'good', following their last rating in 2017. During their visit, inspectors observed lessons and spoke with leaders, staff, pupils and parents.
 
Fleur Edwards, Principal, said: "Inspectors were incredibly complimentary about the school and confirmed that Henry Hinde Infants will retain Ofsted's 'good' rating. 
 
"What is more important than any rating, however, are the many positive comments about our children, our staff and our community. One particular piece of feedback that stood out to me was that the children's behaviour was exemplary, and inspectors could see that our pupils feel very safe and secure here. 
 
"One of our visitors also remarked that she was blown away by the language development of the children and safeguarding was also considered to be a fundamental thread that runs throughout our school."  
 
Inspectors also observed, for example, that "Parents and carers speak positively about the school. They appreciate meetings about how to support their child at home. Many say that staff go 'over and above' to help their children."
 
In addition, they said that "Pupils have positive attitudes to learning. They listen carefully and try hard in lessons…They are enthusiastic and like solving problems. Leaders and staff help them to develop curiosity and resilience. They encourage pupils to be independent from the start."
 
Other positive comments about the school community included: 
"Pupils work well together. They understand how to take turns. They are respectful and kind and follow the school rules. Pupils know that 'a good friend takes care of you'. Pupils feel safe at school and are very well looked after."
"Adults in the early years prioritise speaking and listening. They focus on developing children's speech and vocabulary so that they can express themselves clearly. They model good language at every opportunity and expect children to do the same."
"The teaching of early reading is a strength of the school. Teachers help pupils quickly learn the sounds that they need to read independently."
"Subject leadership is strong. Curriculum plans are appropriately sequenced. These, combined with effective teaching, ensure that pupils make strong progress across the curriculum." 
"Pupils new to the school are assessed without delay. Support is quickly provided for any pupil in danger of falling behind."
"Staff provide effective support for pupils with special educational needs and/or disabilities (SEND). They adapt their teaching effectively so that pupils can learn. Teaching assistants know pupils well. They help pupils with SEND to access the same learning as their classmates."
"Pupils take on responsibilities such as play leaders or becoming a buddy for a child in Reception. They take these jobs seriously. They talk enthusiastically about after school clubs like dodgeball and craft club."
Henry Hinde Infant School has proudly been part of the Transforming Lives Educational Trust (TLET) since 2017. 
 
James Higham, CEO of TLET added: "It is a huge privilege to work in partnership with Mrs Edwards and her committed team, in our relentless drive to improve the life chances of our pupils.
 
"As we reflect on so much positive feedback about what it is like to learn at Henry Hinde Infant School, we are looking forward to stepping into the next exciting chapter for this community."